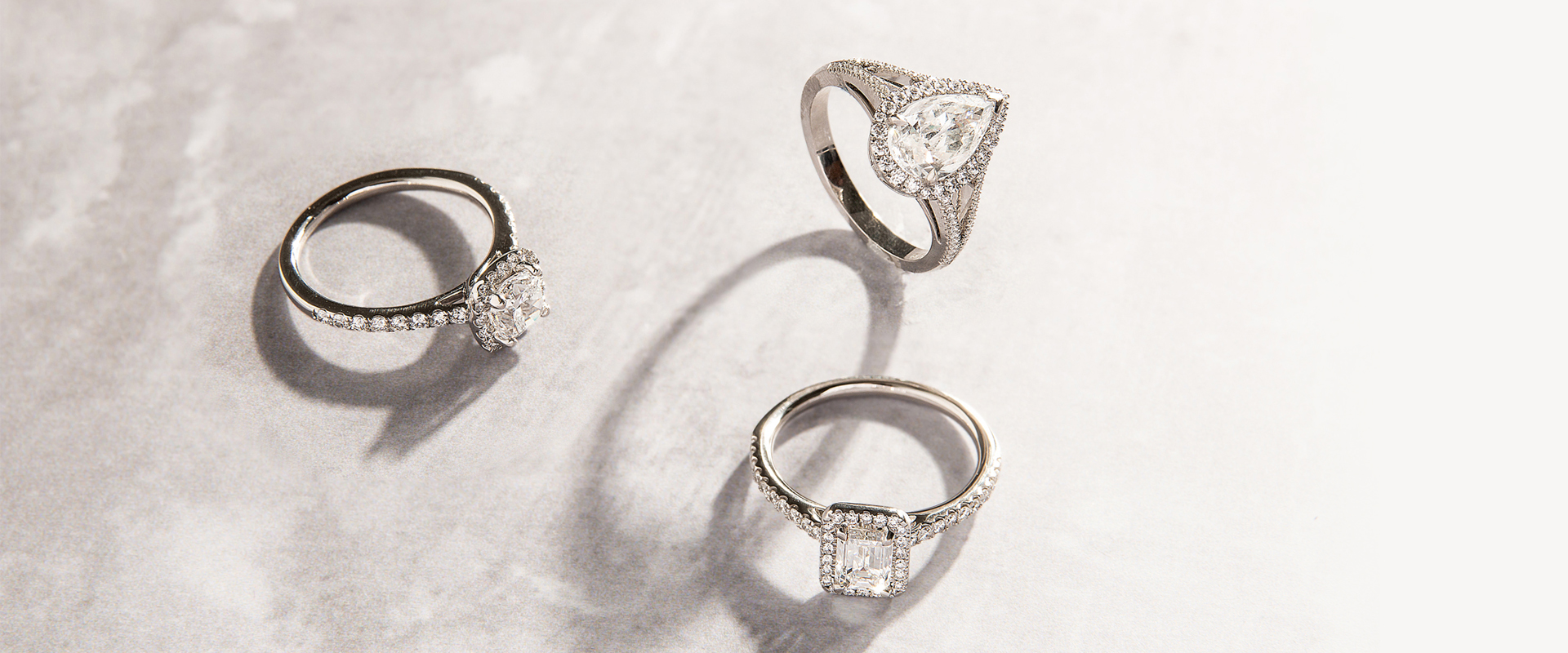 Choosing the perfect engagement ring style
At Pravins we know just how important finding the perfect engagement ring is. While engagement ring trends may come and go, the right ring will speak to her in a way that no other piece of jewellery can. To help you find an engagement ring as exceptional as she is, Pravins offers a wide variety of engagement ring styles that range from the timeless classics to something more unusual and quirky.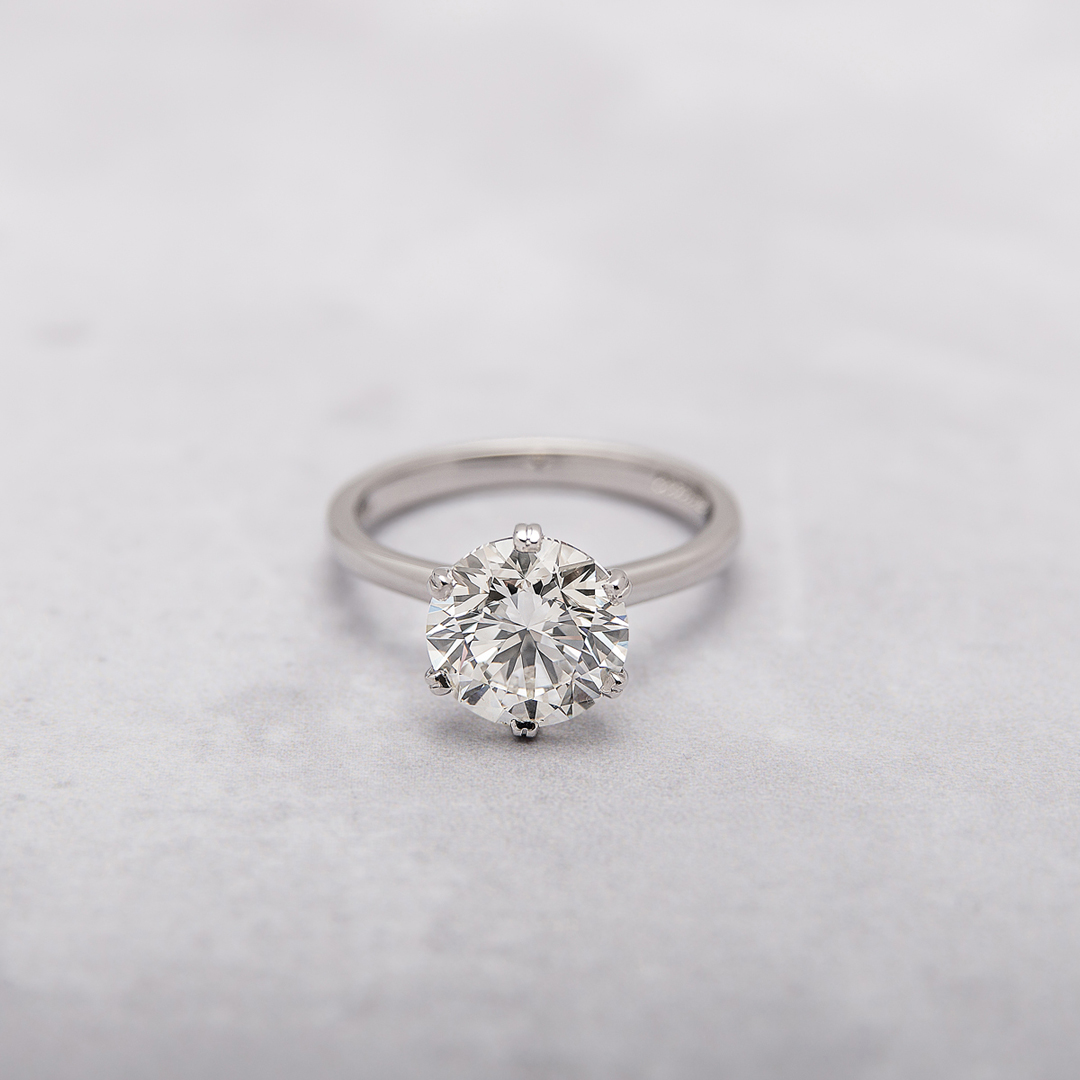 Solitaire Engagement Ring
Diamond solitaire rings epitomise what people traditionally think of as a classic engagement ring. The clue is in the name - with this style the focus is on the main diamond, although small diamonds can be set into the shoulders of the band to add a vintage feel.  
A solitaire diamond engagement ring is the most traditional and timeless engagement ring design.  Solitaire rings can be made with four claws, six claws, eight claws or even a rubover setting and can feature virtually any shape of diamond.  Six tall claws with a sharp taper has become informally known as a Tiffany setting, after the American firm that focussed heavily on this style. 
In the UK four-claw settings are a very popular style of setting for solitaire diamonds.  Pravins specialise in solitaire diamond rings and most of our styles have been carefully designed to sit flush with a wedding ring.
Browse our
diamond solitaire engagement rings
.
Three Stone Engagement Ring

Three stone rings are another very traditional and popular style of engagement ring.  Traditionally this design featured a slightly larger centre gemstone, however in the nineties the UK jewellery trade developed a new style of ring, the Diamond Trilogy ring, featuring three equal sized diamonds - said to represent the past, present and future. 

Although the term Trilogy is less frequently used today, the notion of three gemstones symbolising the past, present and future is still a very popular and romantic idea, one that is sure to add deep meaning to your proposal. 

Diamonds are a failsafe stone of choice for three-stone engagement rings, but for those desiring something more dramatic and colourful Pravins has a beautiful range of striking sapphire, ruby or emerald three stone engagement rings.
Browse our diamond three stone engagement rings.
Twist Engagement Ring

A twist solitaire engagement ring is exactly as the name describes - the diamond is set between elongated branches of the ring's band.  The result is an organic wave shape setting that balances classic design with a more modern and playful look – a contemporary twist on the classic solitaire design.
Bear in mind that a twist engagement ring will need to be carefully matched to a wedding ring as it will not sit flush against a standard straight-edged wedding ring.
Browse our diamond twist solitaire engagement rings.
Cluster Engagement Ring

Cluster engagement rings feature a large central gemstone surrounded by smaller gemstones (usually diamonds).  These rings are usually round or oval in shape.  The outer diamonds often take on the appearance of flower petals due to the position of the setting claws on the outermost edges.
Perhaps the most famous cluster engagement ring in the world is the oval sapphire and diamond ring currently worn by the Duchess of Cambridge, previously belonging to Princess Diana. This traditional style has stood the test of time and the enduring popularity of the cluster engagement ring goes hand in hand with its royal appeal.
Browse our cluster engagement rings.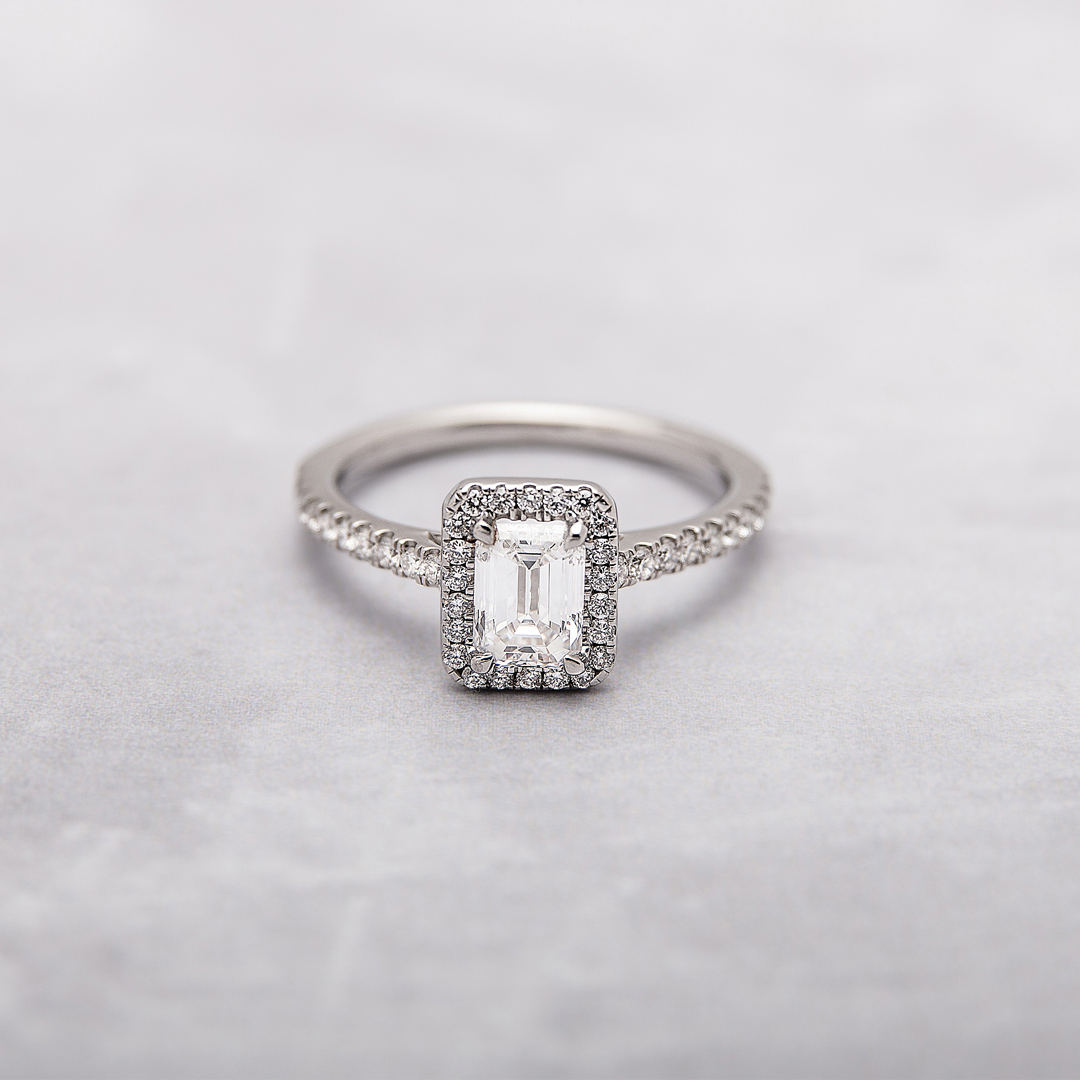 Halo Engagement Ring

Similar to the cluster ring, a halo engagement ring has a centre gemstone that is surrounded by smaller diamonds.  The difference between the two is that a halo ring has small diamonds set into a smoother setting (rather than open claws), giving the appearance of a sparkly halo around the main diamond.
The halo style is great for adding extra brilliance whilst still accentuating the main central gemstone.  Like cluster rings, halo engagement rings come in a variety of shapes including pear and oval.  
Browse our diamond halo engagement rings.
Coloured Stone Engagement Ring
Coloured stone engagement rings cover a wealth of ring styles that don't feature the traditional white diamond. Many people look to classically popular gems such as sapphires, rubies and emeralds, which have over time become tied to notions of commitment. However, in more recent years, we have witnessed clients veer towards the unusual, featuring gemstones like tourmaline, tanzanite, morganite or fancy-coloured diamonds, to create a bespoke style which they feel would reflect an element of their own, or their partner's personality.
Bespoke creations
Sometimes only a one-off piece of jewellery that is just as unique as its wearer will do. The Pravins bespoke service is ideal for our most visionary and creative clients – the only limit is however far you will follow your imagination.  Let our team guide you to the creation of your perfect piece.
For more information on our bespoke journey, take a look at our Bespoke page.
Pravins the engagement ring experts
Pravins have five decades of experience of designing and creating the finest quality engagement rings.  Our friendly and expert staff are on hand to welcome you and provide useful, practical advice to help you select the perfect engagement ring. 
Whichever style you choose, you can rest assured that all Pravins rings are made to the highest standards and feature only the finest and most precious materials.  The diamonds and precious gemstones in our engagement rings are all hand-picked in our London office and all of the manufacturing and setting work is carried out by skilled craftsmen in the UK. 
The majority of our diamonds are accompanied by a Gemmological Institute of America (GIA) diamond certificate and all Pravins diamond pieces are backed by our unique 10-year guarantee. 
Every Pravins engagement ring comes in a beautiful presentation box and is also supplied with a pocket pouch so that it can be secreted away, ready for that perfect moment.