How to buy an engagement ring
---
You've uncovered a real gem, now it's time to find the perfect engagement ring…
So, you've decided to pop the question. Now you're asking yourself - how do I find the right engagement ring?  There are lots of things to consider when choosing an engagement ring, and though it can be daunting, it shouldn't be difficult. Let Pravins' experts help you, every step of the way.
What is an engagement ring?

The tradition of wearing a ring on the third finger of the left hand began with the ancient Romans who believed that this finger contained a vein that ran directly to the heart – the 'vena amoris'.  At that time these rings symbolised ownership as much as love.  More romantically, the first diamond engagement ring can be attributed to the Archduke Maximillian of Austria, who gave Mary of Burgundy a betrothal ring upon their engagement in Vienna in 1477.  After this grand gesture, the notion of presenting precious engagement rings to symbolise love and commitment quickly spread throughout Europe in the 1500s. 
With the advent of modern marketing, the idea of proposing with a beautiful and carefully-chosen diamond ring has become deeply ingrained in modern culture and today only the bravest of souls would contemplate popping the question without presenting a box containing something sparkly and precious (whilst down on one knee of course). 
But don't be put off by suggestions of outdated trends, social pressures and a hefty bill.  A diamond engagement ring is a powerful statement of love and commitment.  It is the first considered purchase for most couples and will remain for decades as an enduring symbol of a very special time and an irreplaceable feeling.  There is no other physical manifestation of human emotion quite like it – plus it has the added benefit of showing that the wearer is 'off the market…' 
As with so much of modern life, established rules no longer apply and couples are free to make their own interpretation of what engagement rings suit them.  Bear in mind however that five-hundred year old traditions are likely to outlast modern fads; that established precious gemstones and gold and platinum are durable and well-suited to jewellery manufacture; and finally that whatever style you choose it will eventually be worn next to a wedding ring.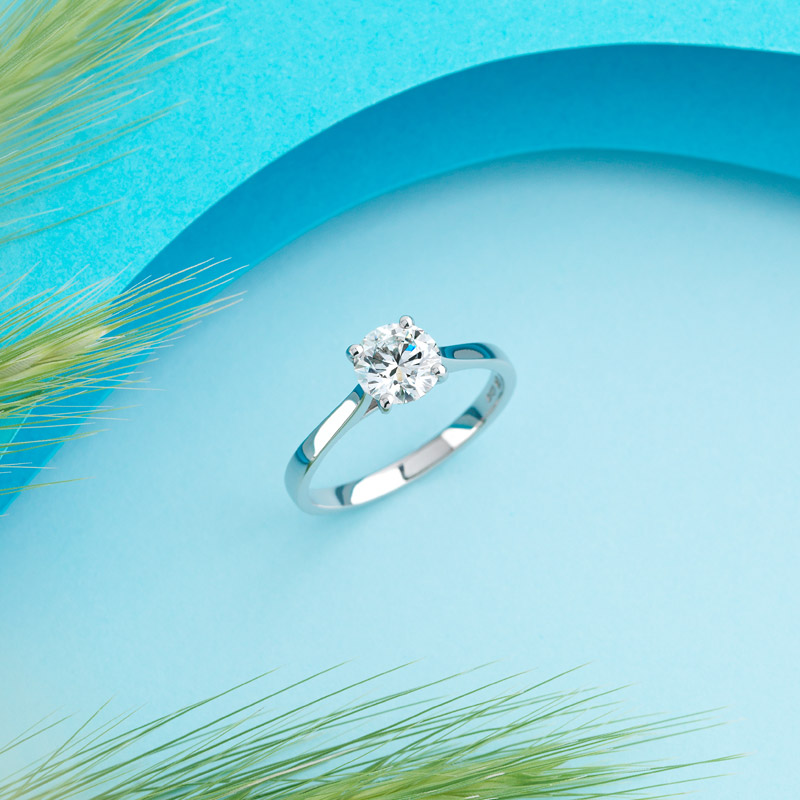 When do I need to buy the ring?
There's no set timeframe that you must buy your engagement ring within, but we recommend ordering as early as possible, to ensure that your perfect ring is ready in plenty of time for the proposal.
It's worth bearing in mind that if you don't opt for a stock piece, a specially-made engagement ring can take up to eight weeks to be completed.

What if I don't know their finger size?

Don't panic - no one is expected to know their partner's finger size off the top of their head!
Our stock pieces are generally made in the most popular finger sizes, though of course we know that everyone will have their own unique size and preferences. If you fall in love with a ring that we hold in one of our boutiques, we recommend that you take the stock piece to propose with and then come back afterwards to take advantage of our free first sizing policy. We like to think of it as an opportunity to introduce your partner to their new jewellery partner - Pravins! You can bring them in and let our jewellery experts measure their finger to ensure their new ring is a perfect fit – with a celebratory glass or two of champagne, of course.
To get the closest match possible, you can view our handy printable ring size guide here.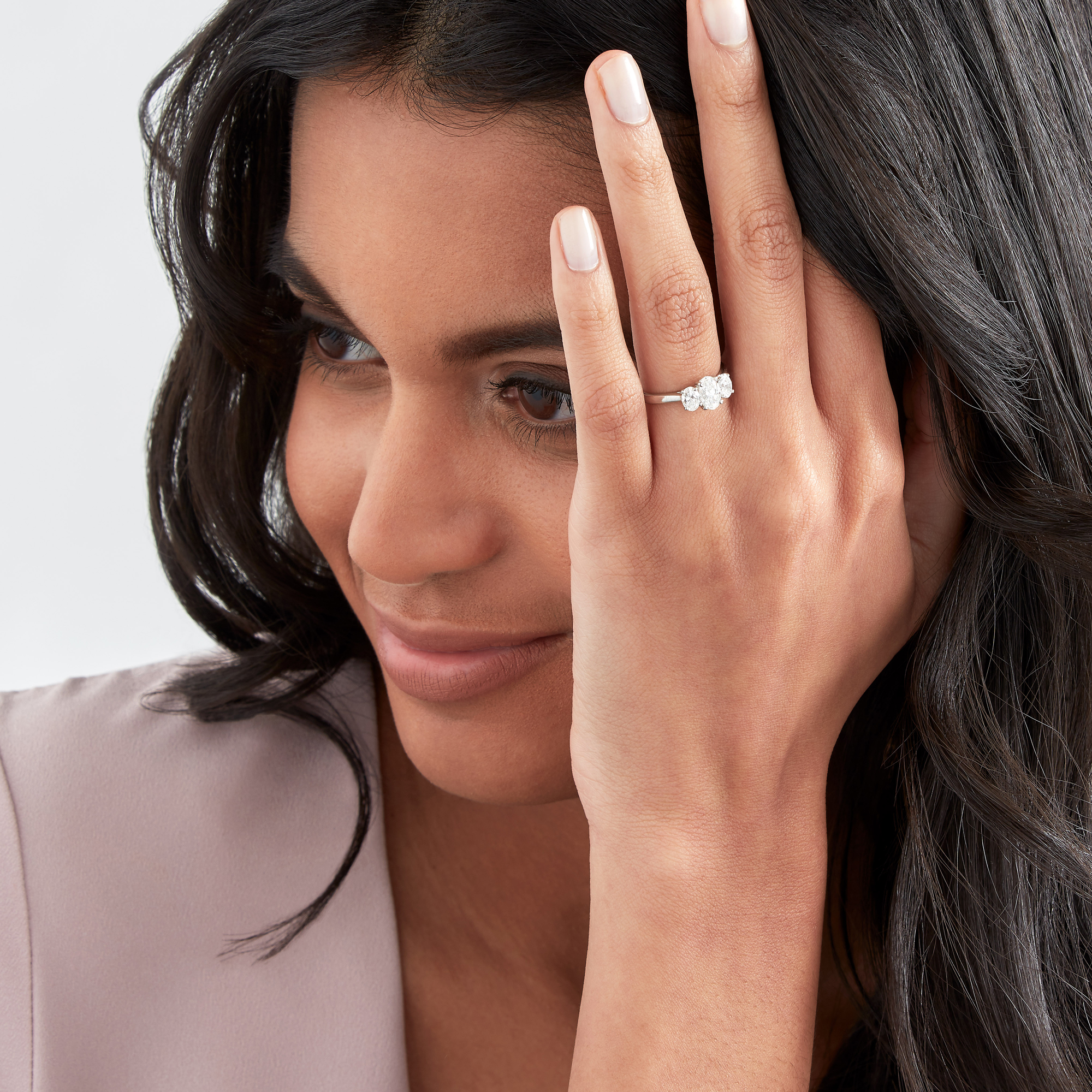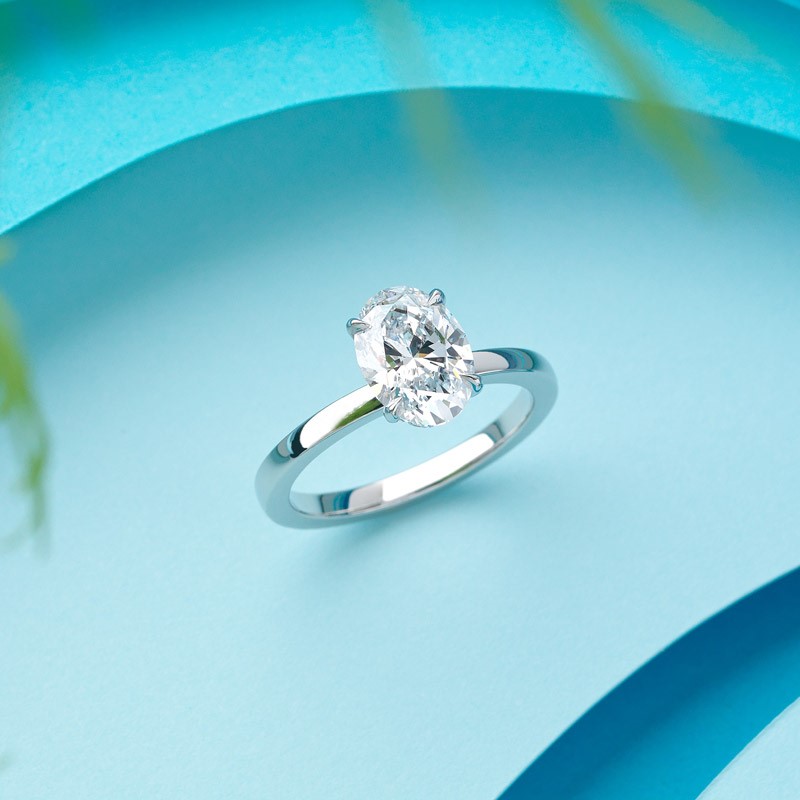 How much should I spend on an engagement ring?

There's no definitive answer to this question, and though tradition suggests that two or three months' salary is the optimal price point, you should only spend what feels comfortable to you. Our selection of engagement rings starts at £750, so there's something for almost every budget. 

We believe that everyone should be able to find their perfect ring and our bespoke service is a very popular and simple way to achieve individual design perfection.  With over five decades of experience in sourcing excellent quality, well-sourced diamonds and gemstones, our bespoke team is adept at finding the perfect gemstone and mount to bring your vision to life – without breaking the bank.
Finance options are also available, including Klarna pay in 3 and interest free credit.

What style of engagement ring should I choose?

Whether you're choosing a ring together or planning to sweep your partner off their feet with a romantic surprise, when it comes to choosing the style of engagement ring there are many factors to consider. 
Metal

Is there any jewellery that your partner wears every day? What colour is the metal? If it's all white, we'd recommend going for an 18ct white gold or platinum engagement ring to match their existing pieces. If they love sparkle, you might want to go for an engagement ring with a diamond halo or diamond shoulders. If their style is more on the minimal side, a classic solitaire ring might be the way forward.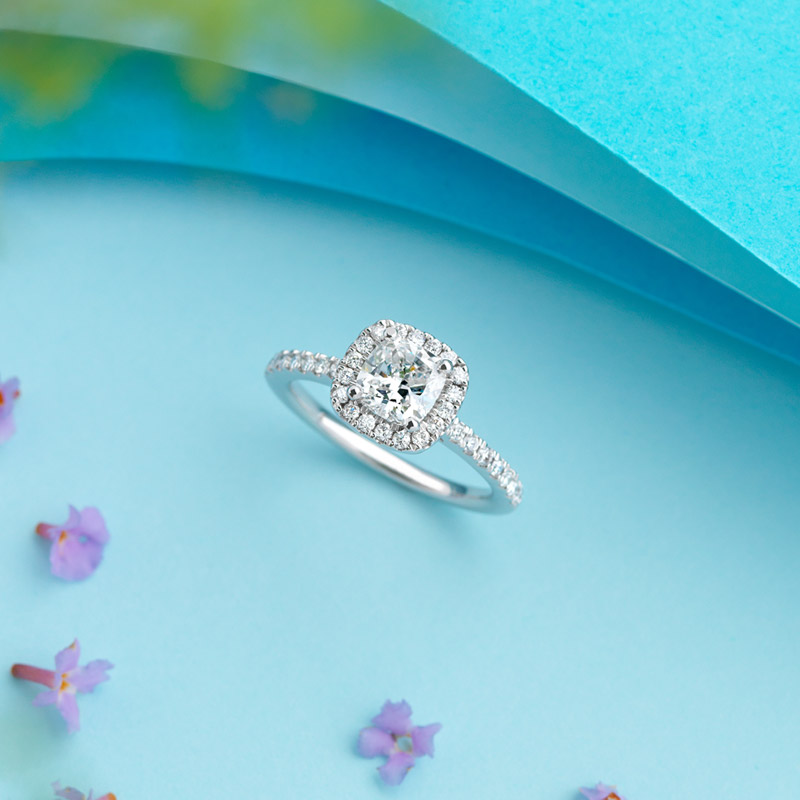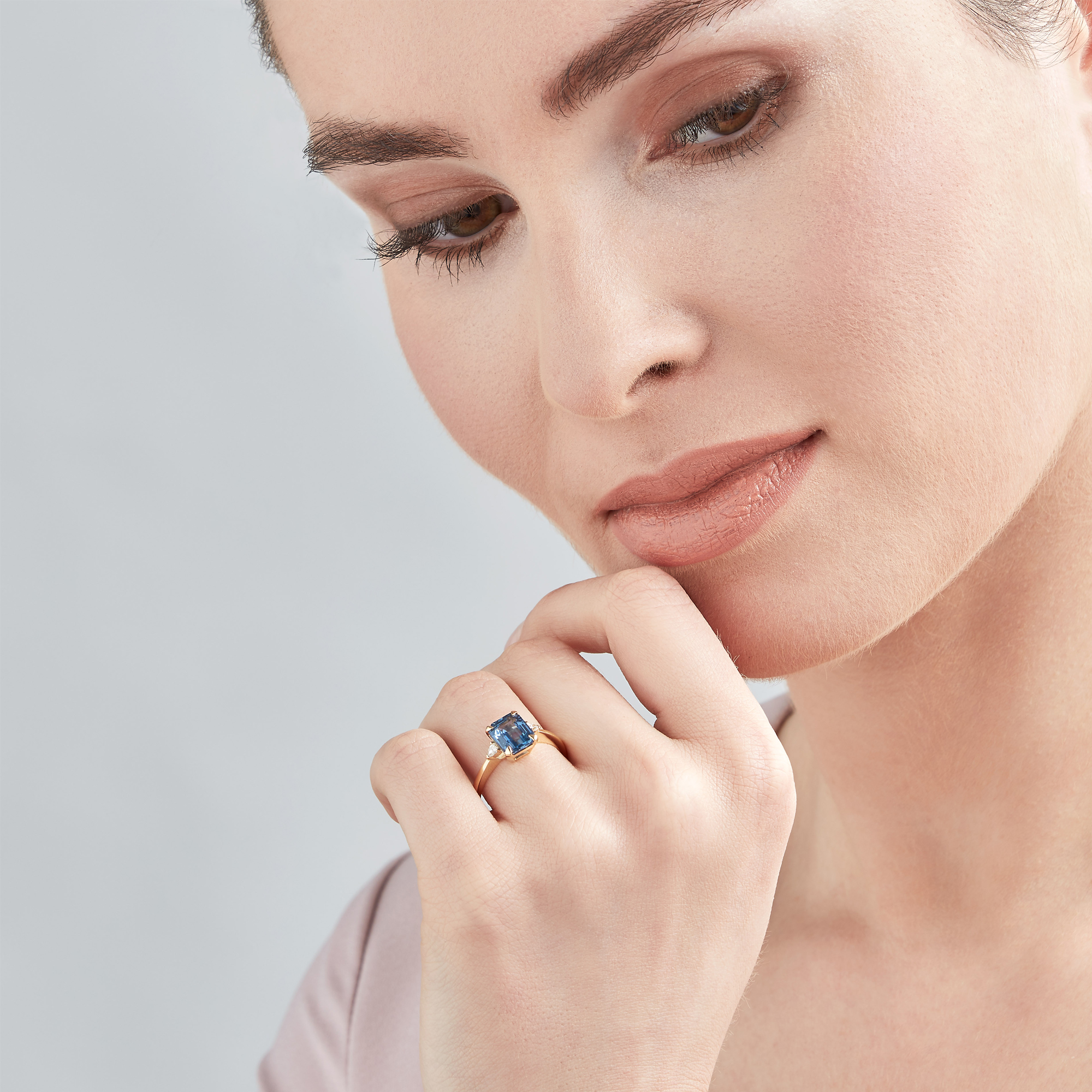 Gemstone

It's not surprising that diamonds are the traditional choice for an engagement ring; they are resilient stones, making them perfect for everyday wear. When cut to ideal proportions, their fire and brilliance is second to none, meaning maximum sparkle and beauty.

Nevertheless, diamonds are not the only gemstone choice for an engagement ring. For something more unconventional, Pravins have an excellent selection of beautiful engagement rings featuring sapphires, rubies and emeralds.  These gemstones are popular choices for engagement rings and their vibrancy is only intensified when set among brilliant diamonds, as with our cluster or three stone ring styles.

Diamond shape
Although traditional round brilliant-cut diamonds remain enduringly popular due to their superior sparkle and timeless design, there are a number of more individual diamond shapes (also known as 'fancy' cuts) available. Read our detailed guide to diamond styles and shapes here.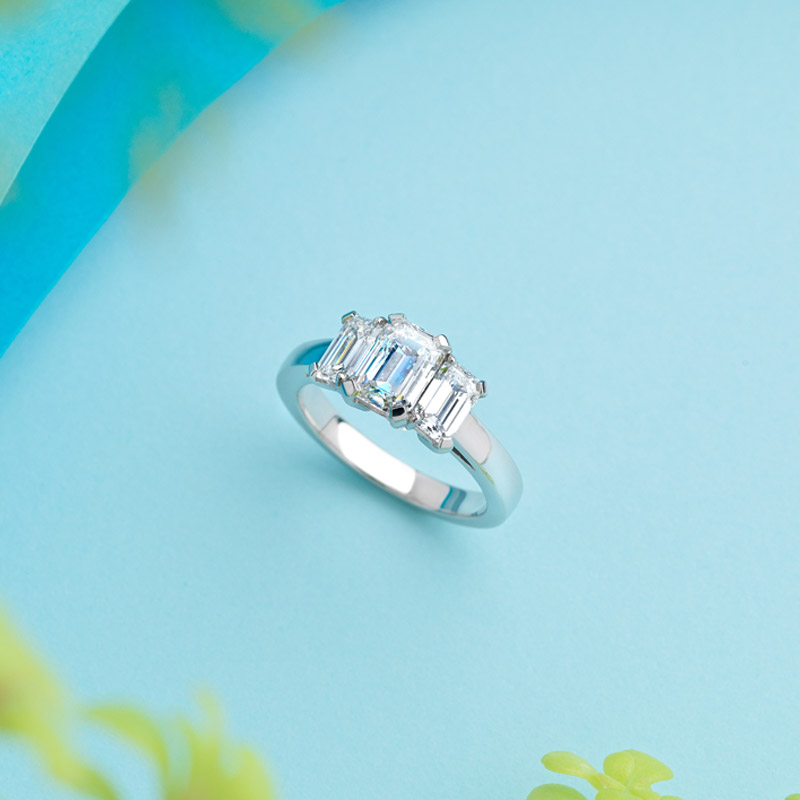 How do I choose a diamond?
Quality is everything and especially so with diamonds.  If you are considering a ring where diamonds are the main feature then you must buy the best diamonds you can afford. Quality is graded using the 4 Cs:  
Carat Weight

A diamond's weight is measured in carats; one carat weighs the equivalent of 0.20g. Different diamond shapes of the same carat weight will vary in size.

Clarity
Being a natural gemstone, diamonds can contain small marks called inclusions. These can appear in various colours, sizes and shapes. Clear diamonds are worth far more than those with visible inclusions.
Cut 
The cut of a diamond is the only factor that's influenced by man. When a diamond is well-cut, it displays maximum brilliance and sparkle.
Colour
This is the most easily visible factor and is therefore particularly important.  Colour is graded from D to Z, with a D graded diamond being considered colourless.
You can find more information about the 4 C's here.
To these, Pravins can add a few more Cs of their own.
Certification
Almost all of our diamond engagement rings are certified by the Gemmological Institute of America (GIA), which is generally regarded as the gold-standard of laboratories.
Confidence
Quality, integrity and trust are principles held dear at Pravins. We partner only with diamond and gemstone suppliers who share these values. Every gemstone is hand picked by our in-house specialists, set into a unique Pravins design and looked after for life with our complimentary inspection service.
Creative design
We know that every story  is unique and our rings are no different. With over fifty years of expertise, our creative team are always coming up with new ideas and inspiring designs. From classic styles to bespoke high jewellery pieces, every Pravins engagement ring is distinct and exciting in its own way.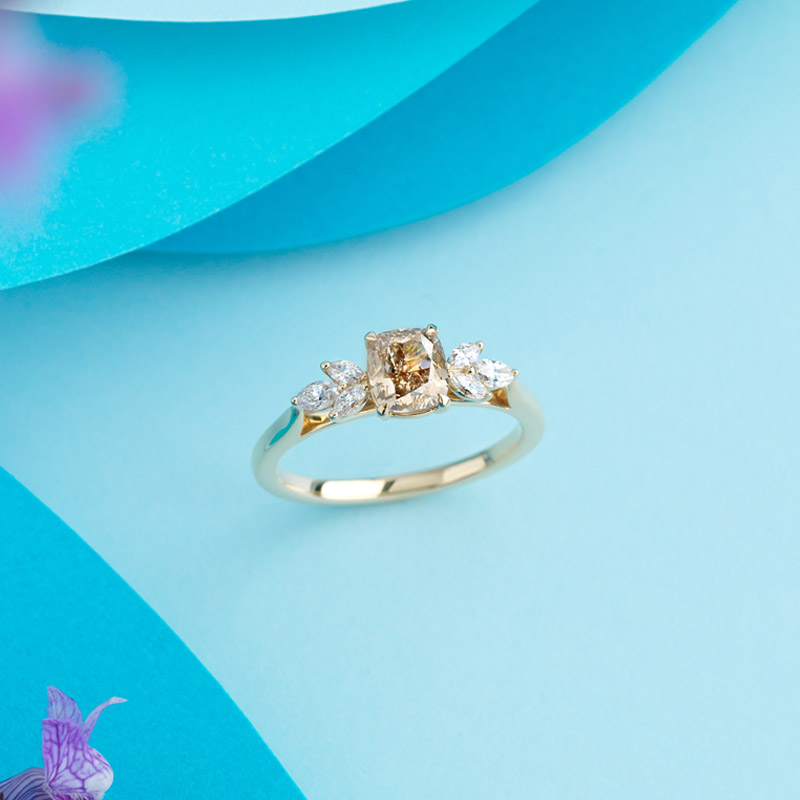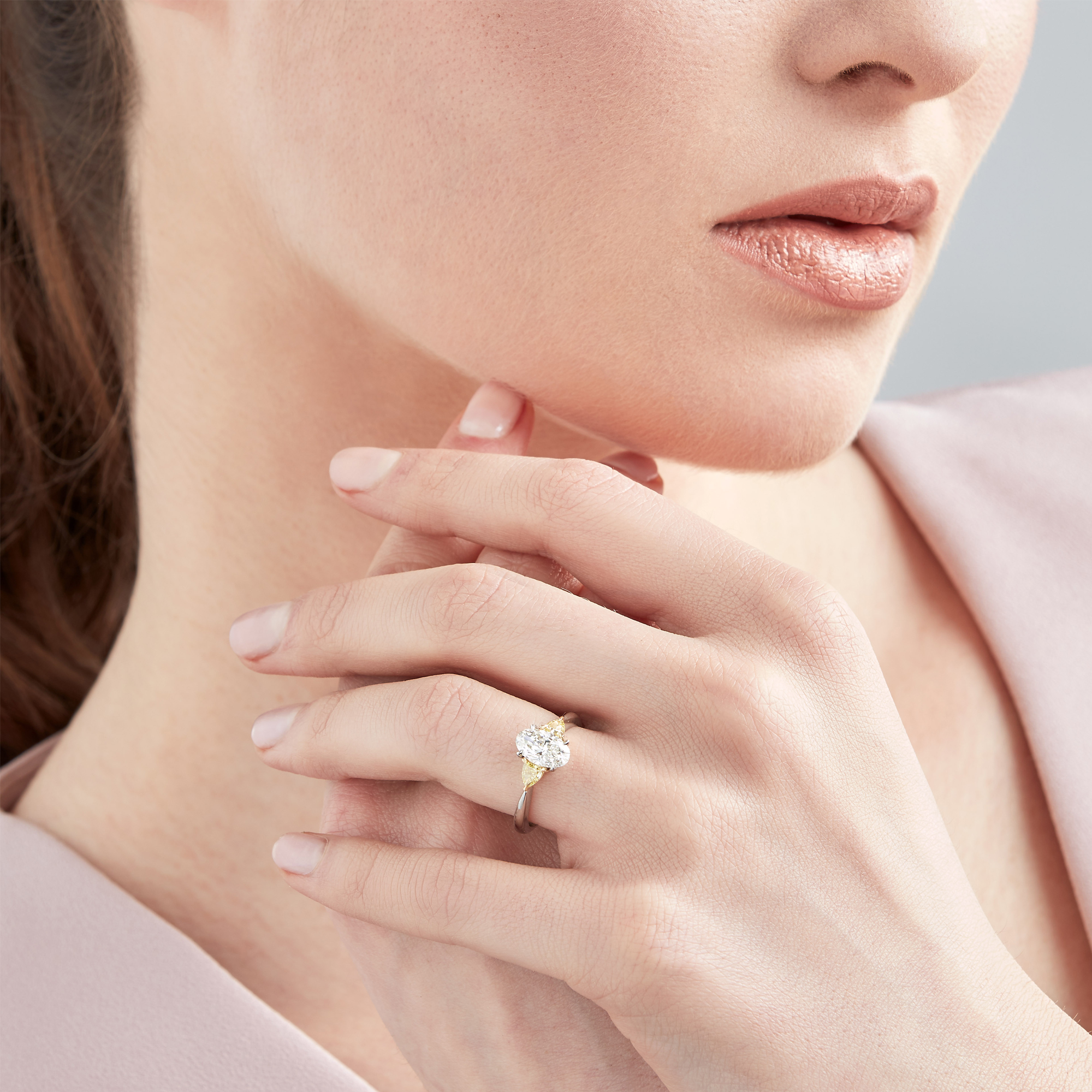 Where should I buy my engagement ring from?
An engagement ring is an investment in money and time and it's important to purchase your engagement ring from a reputable brand that you can trust. Pravins is a family-run, UK-based business that's been helping clients find their perfect jewellery for more than fifty years.  Engagement, wedding and eternity rings are our speciality. Our teams are available seven days a week to help guide you through the process and answer any questions you may have.
All Pravins jewellery is guaranteed for ten years and our complimentary cleaning and inspection service lasts a lifetime.

There's no right or wrong way to go about finding the perfect engagement ring; perhaps you want to tap into your romantic side and choose the ring in secret for a surprise proposal. Or you might visit a jeweller together and enjoy the ring choosing experience as a couple.  Or perhaps you just couldn't wait and have already proposed without any ring at all! No matter what route you choose to take, from your engagement ring to your wedding bands, eternity rings and gifts for special birthdays, Pravins are here to make all those special moments sparkle.
Make an appointment or speak to a diamond specialist today.