How to choose the perfect wedding ring
---
A memorable experience

With so much to plan for the big day, it's easy to get overwhelmed by all the preparations. Few things will be as symbolic or as long-lasting as your wedding rings, so it's very important to set aside time to find the perfect rings. Choosing your wedding rings should be a fun experience for both you and your partner, one where you can celebrate the next step you are both taking together. Let Pravins' experts help, every step of the way.   
What is a wedding ring?

Wedding rings are worn in many cultures to symbolise the ceremony itself and to indicate that the wearer is married. Wedding rings can also be known as wedding bands, although at Pravins we generally prefer to use the word rings.
The tradition of wearing rings to symbolise love and commitment can be traced all the way back to the ancient Egyptians, who believed that a never-ending circle symbolised eternal life and (far more romantically) everlasting love. After conquering Egypt, the ancient Greeks adopted this practice, although it was the Romans who first began exchanging rings as part of a wedding ceremony. By the third century most rings were made of gold and this enduring metal is still a very popular choice across the world today.
Wedding rings are today exchanged in marriage ceremonies all over the world and can be found in a variety of metals and styles, including plain bands, shaped bands and even rings set with diamonds or gemstones.
When should I buy my wedding rings?

We recommend purchasing your wedding rings at least three months before the wedding day to ensure there is sufficient time for any last-minute adjustments. Most of our wedding rings are made to order and manufacturing can take up to eight weeks (before hallmarking and quality control) depending on style and size.  Don't panic if you've left it late though – Pravins can often make miracles happen! Just speak to our team and we will try our best to get your rings in time for the big day.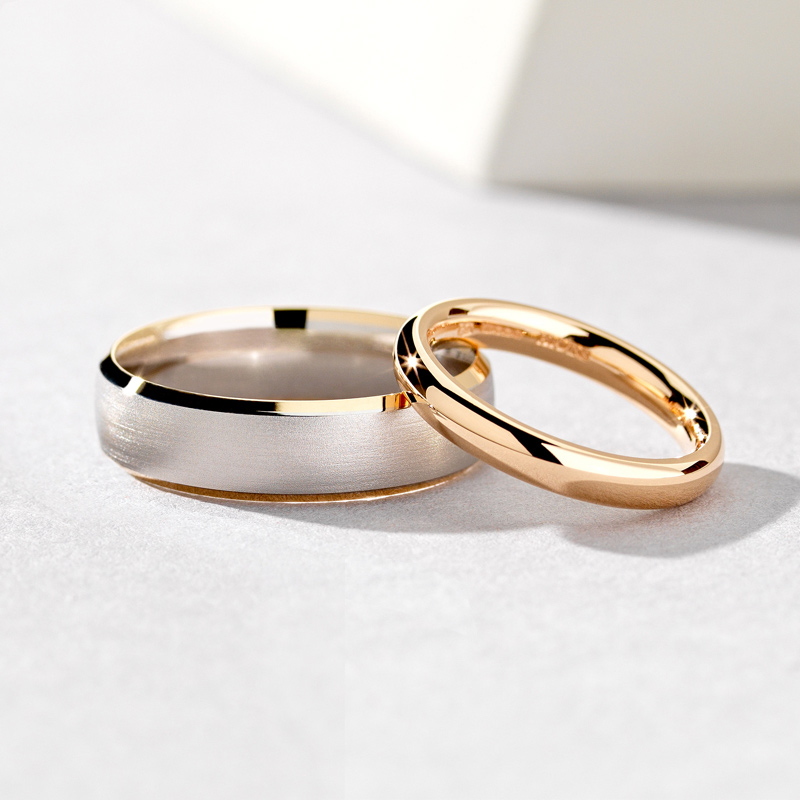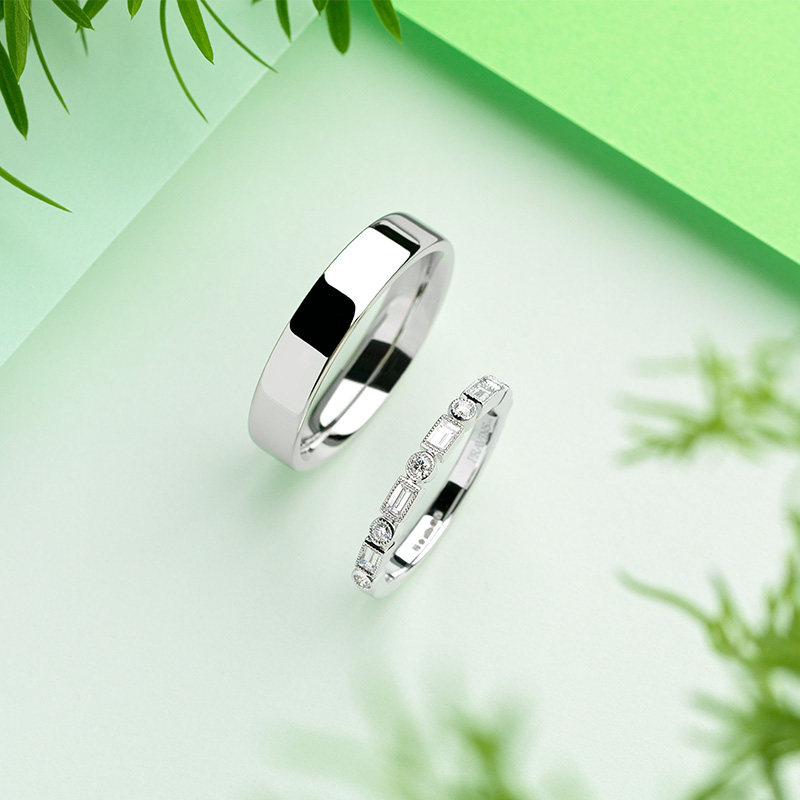 How do I know what size to buy?
Visit a Pravins boutique or request one of our ring sizer tools to find your perfect size today. Most wedding rings are fairly easy to resize after they have been made, with the notable exception of a diamond-set rings, which we would advise you purchase in a boutique. It is also important to consider the size of your engagement ring when purchasing a band to sit alongside it, as wearing multiple rings at once can cause a size that once felt comfortable to suddenly feel much tighter. We would generally recommend choosing a wedding ring half a size larger than your engagement ring.
What metal should I choose?

There's a variety of precious metals to choose from when it comes to picking the perfect wedding ring. It's important to consider not only the colour, but also the characteristics of each metal. Platinum is our most popular option for wedding bands; it's a naturally white metal, meaning it won't tarnish or need replating. It's durable, malleable, and naturally hypo-allergenic. A platinum ring will last you a lifetime with very little upkeep and is a good choice for those with more manual jobs.

Gold is another excellent choice. Pravins rings are crafted in 18ct gold, which is the ideal carat weight for jewellery. It's 75% pure gold and can be mixed with various other metals such as copper and silver, to ensure the metal is durable enough for everyday wear. 
18ct yellow gold is a traditional option for wedding bands, and has a rich, warm glow. As gold is naturally yellow, this metal will not need replating and as such requires less upkeep than its white counterpart.

As 18ct white gold is not a naturally white metal, it will be rhodium plated to give it that signature white sheen. This rhodium will wear over time, meaning white gold jewellery will need to be replated every few years. This is inexpensive and will return your jewellery to its original pristine condition.
18ct rose gold is mixed with copper alloys to create the distinct rosy-pink gold hue that's quickly rising in popularity. Rose gold is a contemporary and stylish option and compliments most skin tones.

Palladium is a naturally white metal, meaning it won't lose its white sheen and won't need replating. In the past, it was considered a more affordable option than platinum for those looking for a durable white metal. However, in recent years, the cost of palladium has risen significantly due to a rise in demand and a relatively low supply. 
If you are planning to wear an engagement ring alongside your wedding ring it's also important to consider what metal will sit comfortably alongside it. Though the choice is yours to make, it's important to note that platinum and white gold differ in hardness, and we would generally recommend wearing like for like metals together (e.g., gold with gold). You may want to choose a metal colour to match, though many brides-to-be will choose to mix metals – just like the royals!


What ring style should I choose?
Pravins' traditional plain wedding bands come in three standard profiles: Traditional Court, Slight Court and Flat Court. All three profiles come in various widths from 2mm to 7mm; if you're wearing your wedding ring alongside an engagement ring you may want to match the band width to create a flawless matching set. You can choose from four gauges: light, intermediate, medium, and heavy. The heavier the gauge, the thicker your wedding ring will be and the heavier it will feel on your finger.

A traditional court wedding ring is rounded on both the inside and outside of the band for a timeless and traditional look. The rounded inside band makes for an extremely comfortable fit.

A slight court wedding ring boasts a far gentler outside curve than the traditional court, for a softer feel. This style of wedding ring will match most engagement ring styles.

A flat court wedding ring is flat on the outside of the band, giving it a contemporary and modern look. The inside band of our flat court is still rounded for comfort.

There are many options available to create a more unique wedding ring than a traditional polished band. You can opt for a variety of standard patterns, such as beaded edges or bevel detailing, or choose something more intricate such as our Celtic patterned band. Pravins rings come in a variety of finishes, from a contemporary matte finish to a unique black rhodium plating.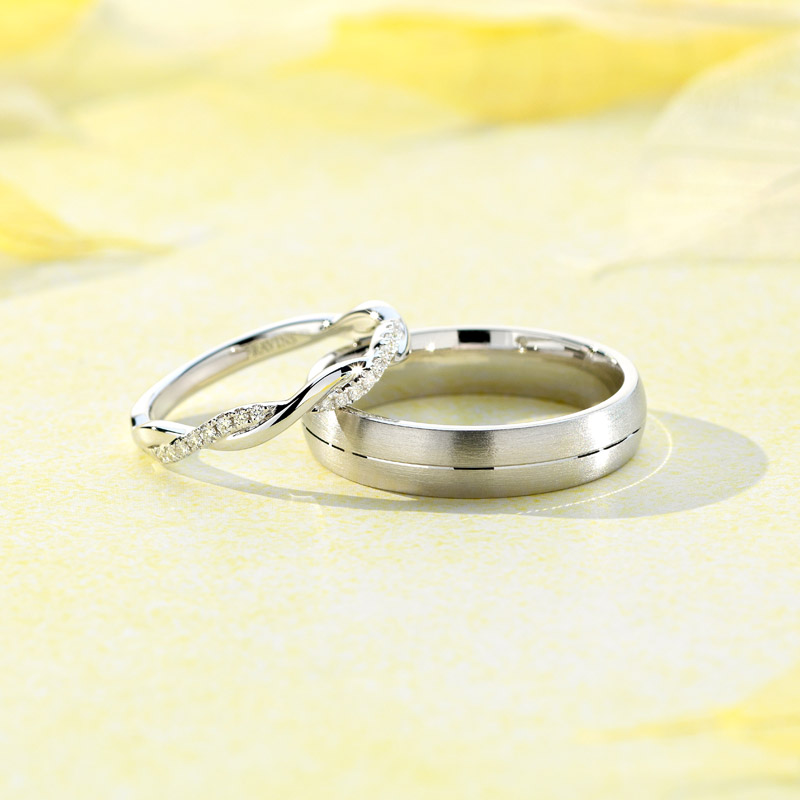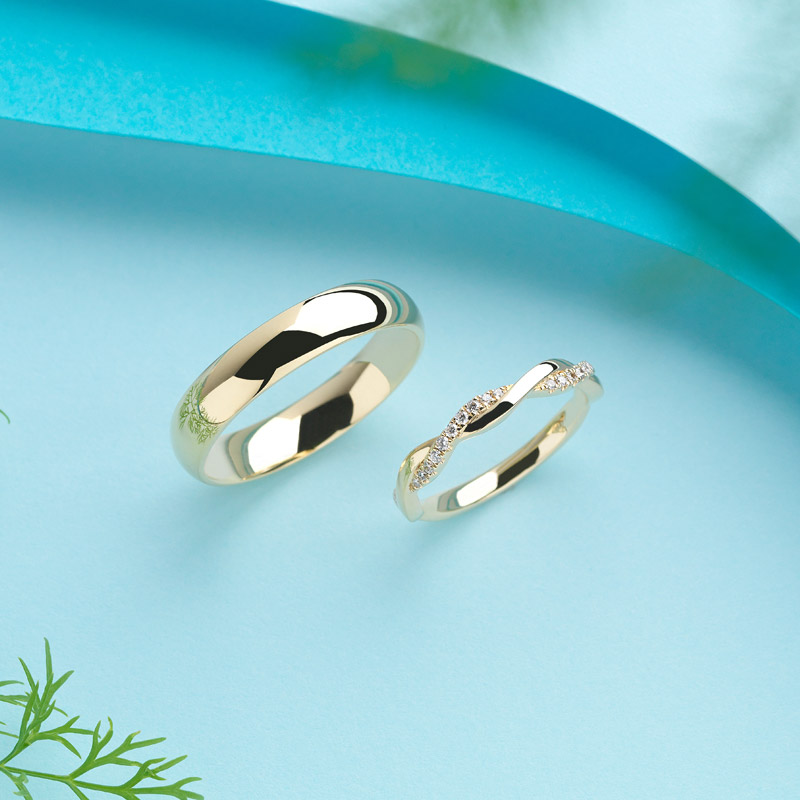 Looking for something with a little extra sparkle?

Plain polished wedding bands are not the only option when it comes to choosing your wedding band. It's becoming increasingly popular to opt for a diamond set band for a wedding ring. 
There are three classic settings you can choose from when picking a gem set band:

Channel Set - A traditional channel set band holds the diamonds within the metal of the ring, giving the band a smooth finish, meaning the stones are secure and won't catch on clothing or interrupt your day-to-day activities. 

Claw Set - In a claw set band, the diamonds are held in place by metal claws that sit above the band. This setting is perfect for those who love sparkle, as the diamonds are exposed to more light for maximum brilliance. 

Grain Set - A grain set band combines elements of both the channel and claw settings. Though the diamonds are set within the band, they are held in place by very fine claws, meaning there are no spaces between the stones.

Pravins offer a wide selection of diamond set wedding bands which, if needed, can be made to match your engagement ring exactly. Whether you're looking for a men's band set with a single stone or a full diamond set ring, we have the perfect piece. 
Can I personalise my wedding ring?

Yes! We offer engraving services on all our wedding rings, so you can personalise your ring to your liking. Whether you're looking to commemorate the big day by engraving the date or show your love with a romantic personal message, give us a call and we can create your perfect engraving.

What do I do if a wedding band won't fit next to my engagement ring?

If you're lucky enough to have an exciting engagement ring style with a large, fancy shaped or uniquely set stone, you may find that a traditional band will not sit flush next to it. This isn't a problem however, as you can find multiple shaped bands designed specifically with this in mind. Pravins' selection of shaped wedding bands come in all metals and various widths, plain polished and diamond set.

Where should I buy my wedding ring from?

Your wedding rings are an investment in money and time and it's important to purchase them from a reputable brand that you can trust. Pravins is a family-run, UK-based business that's been helping clients find their perfect jewellery for more than fifty years.  Engagement, wedding and eternity rings are our speciality. Our teams are available seven days a week to help guide you through the process and answer any questions you may have.
Make an appointment or speak to a diamond specialist today.