RINGS
Wearing the correct size of ring will enhance comfort and also help to prevent many common maintenance problems.
If you don't know your finger size, our store teams will be happy to assist you in measuring your finger with a gauge.  If you are not able to visit a store, please contact us and we will post you a small ring sizing tool to allow you to take your own measurement at home.  
If you already have a ring and want to find out what size it is, our store teams will be able to help measure it or alternatively you can use the measurement guide on the following page (please take care to ensure you download the pdf and print it to the correct scale).  
Don't worry if you are buying a ring for someone else and don't know what size you need.  Our stock pieces are generally made in the most popular sizes and can usually either be adjusted after purchase or in some cases exchanged (unworn and subject to our normal return conditions) for a complete new ring in the correct size.
Finally, please note that most people's finger sizes change over time, therefore we recommend discussing this with our team, along with any other maintenance requirements, as part of a routine inspection visit.  
NECKLACES

The majority of our chains and necklaces range from 42cm to 45cm; this is a classic length which falls just below the neck for most people and slightly lower if a pendant is attached.  If you would prefer a different length, please contact us.
Most of our pendant chains have an extra loop to allow them to be worn at different lengths.  
BRACELETS
Our bracelets are usually 19cm long.  We are able to shorten most bracelets for the perfect fit, but lengthening can be more difficult and may require a complete new bracelet to be specially made in the correct length.  Please contact us to find out more.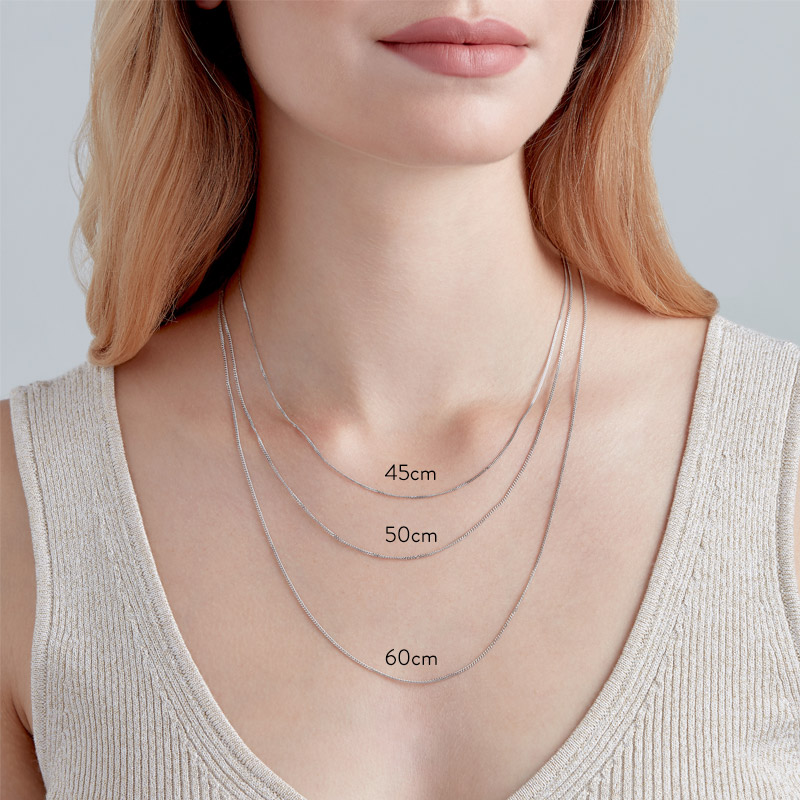 TRANSLATION OF INTERNATIONAL RING SIZES

The chart below lists UK sizes against our understanding of the most common international sizes.  We have also included an internal diameter measurement, however you may find it easier to use our Ring Size Estimator, which you can download as a PDF by clicking the link below.
UK, Ireland, Australia,




New Zealand

USA,




Canada

China, Japan, India, South America

Switzerland, Italy, Spain, Netherlands

Internal diameter in mm

H

4

7

6.75

14.9

H½

4¼

7.5

15.1

I

4½

8

8

15.3

I½

15.5

J

4¾

8.75

15.7

J½

5

9

9.25

15.9

K

5¼

10

16.1

K½

5½

10

10.5

16.3

L

5¾

11.25

16.5

L½

6

11

11.75

16.7

M

6¼

12

12.5

16.9

M½

6½

13

13.25

17.1

N

6¾

13.75

17.3

N½

7

14

14.5

17.5

O

7¼

15

17.7

O½

7½

15

15.75

17.9

P

7¾

16.25

18.1

P½

8

16

17

18.3

Q

8¼

17.5

18.5

Q½

8½

17

18.25

18.7

R

8¾

19

18.9

R½

9

18

19.5

19.1

S

9¼

20.25

19.3

S½

9½

19

20.75

19.5

T

9¾

21.5

19.7

T½

10

20

22

19.9

U

10¼

21

22.75

20.1

U½

10½

22

23.25

20.3